The Vikings finally reach Nimes (July 2005)
(click on the photos)
After my adventures in Dijon (see the article 'Roues' in the 'Mechanique' section), I set off apprehensively for Nimes. To do more than 800 km in one go, each way, plus a rally while there, seemed to be expecting a lot of the TR3 - but it rose to the occasion! Neither the wheels nor the pulleys (see the article 'Poulie') gave any trouble. I undertook the journey because I had promised our Danish friends to join them in Nimes, together with Jean Paul Brunerie and the members of his Aix-based club "Volants et Fourchettes" . This was the reason a flotilla of old cars (all English, except for one Swedish Volvo) found themselves together for the weekend with a rally, sightseeing and barbecue on the programme and above all......international friendship. G.G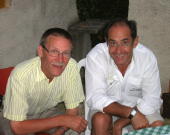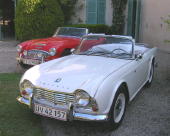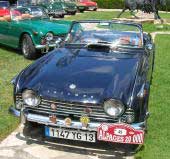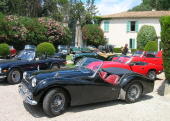 1) Following an e-mail from Jesper (on the left) I contacted Jean Paul (on the right) to organise a meeting with our Danish friends on holiday in the Nimes area. 2) Jesper came with a TR4 (for his wife Lene) and his Healey (plus his twin daughters, his Husky dog, and 16 other Danish cars!) 3) Jean Paul came with his TR4A and some friends from the 'Volants et Fourchettes' club. 4) I came from Paris with my TR3A and drove more than 2400km in 4 days!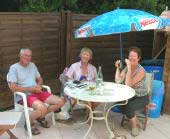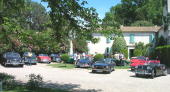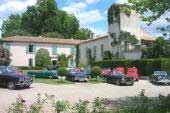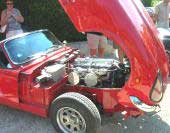 5) Pam and John, English friends, joined us from the Lot with their TR6. 6 et 7) It was an impressive group of cars outside the beautiful Mas de Sagnier where the Danes were staying - TRs, Austin Healeys, MGs, Sunbeam Alpines, a Jaguar and..... a Volvo, 8) and also a Spitfire (with 6 cylinder motor, Alpal bonnet, ....) All the cars of our Danish friends were in perfect condition, often almost new!.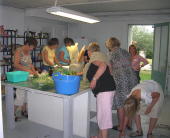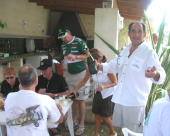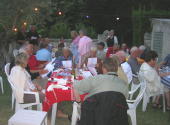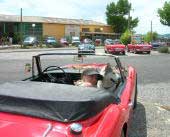 9) preparing the barbecue - where are the men?10) where else....? 11) Around the table the Danes sang a hymn to the TR written by one of the members !12) A stop at the pottery shop in Anduze during the rally through the foothills of the Cevennes. The limitations of the TR boot soon became apparent!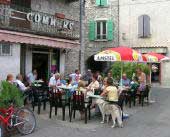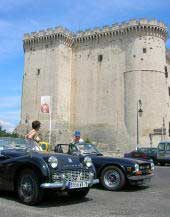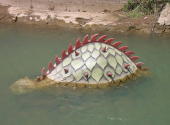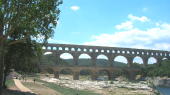 13) a stop to refresh the motors 14) a visit to Beaucaire and King René's castle in Tarascon 15) where I saw the famous Tarasque with my own eyes 16) and a final visit to the Pont du Gard (more than 2.000 years old!!!)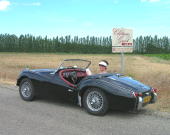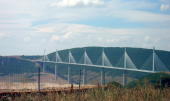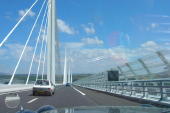 17) Look closely and you'll see that Château Guiot really exists!!! (a Costières de Nîmes with excellent rosé) 18) a detour by Montpellier on the way home in order to take the A75 via the new bridge at Millau, a 'must' if you're in the area.


d